After the past year (or two) of small, tentative, outdoors if possible, or non-existent celebrations, we are ready to decorate, cook, sing, play games, party, and celebrate with abandon!
Travel Pulse says that Americans "eager to reclaim some semblance of normalcy…  appear to be embracing the holiday spirit wholeheartedly and again engaging in activities that may have been put on hold last year. In fact, close to half (48 percent) of survey participants said they have already started their holiday shopping. And, 38 percent reported that they plan on spending more on the holidays this year."
And that includes traveling to be with family. According to a Nerd Wallet – Harris poll, "the average holiday traveler is expected to charge just under $1,500 in trip expenses on their credit cards, according to the survey data". And why not? Putting travel expenses on your credit card adds points. And as long as you pay it off right away the interest charges are not an issue.
With the flexibility of working remotely, more of the workforce can schedule their travel for less busy days, and save that convenience cost of booking on the high travel days.
According to new Amex Trendex survey findings:
—Of all consumers surveyed, nearly half (49 percent) plan to travel on or before the Tuesday prior to Thanksgiving (November 23) compared to just 29 percent who plan to travel on Thanksgiving Day itself (November 25).
—Forty-two percent of participants said they would skip celebrating Thanksgiving in the U.S. in order to take an international vacation.
—Seventy-seven percent would rather take a vacation with their significant other than exchange gifts, and 68 percent would forgo exchanging gifts with their family to instead go on a family vacation.
— Many U.S. consumers would like to receive a domestic (65 percent) or international (49 percent) trip as a gift this season.
—Fifty-two percent indicated that one of their New Year's resolutions will be to take more vacation time in 2022 than they did in 2021.
—Fifty-five percent of respondents said they plan on traveling between one and three times during 2022, while 39 percent plan to travel four or more times next year.
https://www.travelpulse.com/news/destinations/2021-holiday-trends-show-more-americans-set-to-travel-this-year.html
But, of course that doesn't include everyone.
Hopper, a data company that makes algorithm-based personalized travel recommendations, projected in its most recent forecast that the number of passengers going through U.S. airport checkpoints will be around 75% of 2019 levels for Thanksgiving and 80% for Christmas.
That said, figures for both dates are expected to be roughly double those of the same time in 2020, when the worst of America's infection waves gripped the country.
https://www.bloomberg.com/news/articles/2021-10-07/americans-fearful-of-holiday-travel-are-sticking-closer-to-home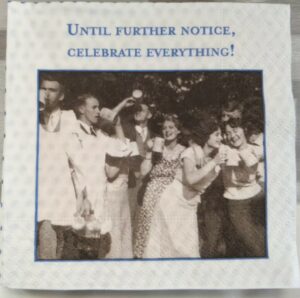 So, how about you?
My family will be together at Thanksgiving. Because they all live at least one state away from me, I am planning to combine all of the fall and winter holiday traditions into that one week. Trick or treating? Yes! I hope to introduce the grandkids to their great aunts and uncles with a costume road-trip. Thanksgiving? Grandma is taking care of the traditional meal at her house. Christmas? But, of course! Santa will be arriving at my house on Christmas morning, aka Black Friday.
The week before will be filled with activity. I am envisioning hand drawn jack-o'-lanterns, ghosts and turkeys; gingerbread houses; decorating the Christmas tree and hanging the stockings. Sitting in front of the fireplace drinking hot cocoa and toasting marshmallows. I will ask one of the grandkids to flip the switch to turn on the outside holiday lights as we watch the glow reflected in their eyes.
Hoping to instill some of the giving spirit of the holidays, they will accompany me as we fill some of the neighborhood food pantries around town. And, since Advent begins on the Sunday after Thanksgiving, we will try to make the service at Grandma's church to light the first candle before they hit the road back home.
So, what are your holiday plans? Are you hosting the family? Have you pulled out the good china and cleaned it up for the occasion? Turned the mattress in the spare bedroom? Brought the tree up from the basement ready to decorate?
Did you know that Golden Bridges has a Silver and Gold Advantage plan that can help with that? Our Silver Advantage gives you eight hours of helpful hands to assist you with these pre-holiday chores. Need help cleaning up and putting things away after the holiday too? The Gold Advantage comes with 18 hours. Want to hear more? Call us at 888-922-6368. It's your move, Golden Bridges can help!
Whether your holiday plans for reckless abandon or a highly organized calendar, be sure to Celebrate Everything!
It's your move. Golden Bridges can help!
Susan Scholz, Partner
Golden Bridges