When you're downsizing, organizing photos and videos is a critical task.  At Golden Bridges, we hear from our clients that dealing with photo albums, scrapbooks, loose photos and various types of video tape devices can feel like an insurmountable challenge.  For some, the task of organizing photos and videos seems so overwhelming, it can be a major obstacle to moving.  As daunting as it may seem, we strongly feel that taking the necessary steps to organize photos and videos should be a high priority during your home transition.
With some planning and commitment, you can have peace of mind that you've preserved a complete and curated collection that documents your family, loved ones, milestones, history, and adventures. Preserving photos and videos will not only bring you joy for the rest of your life; your efforts will be rewarded with a lasting record of your personal story.
As you plan your downsizing tasks, we encourage you to take a comprehensive look before you organize photos and videos. Whether you've faithfully labeled and sorted every item in your collection, or have simply tossed loose items into bins and boxes, you'll need a plan for digitizing and organizing your photos and videos. A project to preserve photos and videos may require you to invest in services that provide specialized knowledge, experience and equipment, but it definitely pays off in the long run.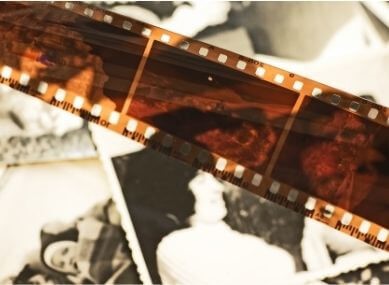 "Old" Technology
For most downsizers, our life story up to the year 2002 or so is locked up in old technology. Most people over age fifty have stacks of photo albums, boxes of old photos, and cabinets full of VHS and camcorder tapes. You may even be lucky enough to have precious 8mm film and 35mm slides.
If you have memories stored on paper and film, chances are they are at least twenty years old, with many that are much older. Obviously, paper items are fragile and will degrade over time. Albums and frames meant to protect your photos sometimes do more harm than good. And the film? Most people don't even have a way to view older tapes and slides, much less edit and preserve them.
"New" Technology
The digital age released us from worry about deteriorating paper and film, but it also introduced a new dilemma: capturing, organizing and prioritizing thousands of digital photos stored across various devices around the house. You may worry about losing files on old laptops, cameras, and phones, and options for storing and sharing digital files can be confusing.
The key to preserving photos and videos is to rescue the precious and fragile personal and family history that was recorded before circa 2002, and cull the vast digital records of the past 20 years into something meaningful.  When you properly organize photos and videos, you will end up with a collection that preserves your memories, tells your personal story, and can be easily accessed and enjoyed.
Our Advice: Don't Wait!
If you're feeling overwhelmed by the process of cataloging and organizing your entire collection of images, you're not alone!  Preserving photos and videos is a very common obstacle for downsizers. Some pros even recommend delaying any type of photo organizing project until after you've moved, because of the potential for getting sidetracked.
While it's true that you may have more time to enjoy looking through your photos after you've moved, it's also true that now is the best time to gather up all of your files, piles of albums and loose photos, and video tapes into one convenient place.  Take the time now to organize your photos and videos, then you can relax, knowing that your collection is safe and ready when you are.
Think Long-Term
Any project that will consume your valuable time and money deserves a clear goal and a plan. What would you like to have at the end of your efforts? At the minimum, you'll want to digitize important images you have on paper, and have easy access to all of your items in one place.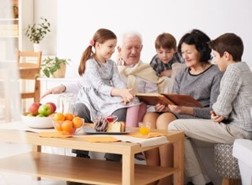 Would you like to:
Simply consolidate your photo albums, loose photos and videos, and make sure you're not throwing away anything of value?
Have all of your items scanned for protection, and leave the organizing and other projects for later?
Be able to share your image collection with loved ones on the web?
Create your own personal or family story to commemorate your life for future generations?
Have professionally designed family history books or video presentations?
There are lots of ways to organize your photos and videos. Only you know your specific situation and what will work best for you. At the minimum, we at Golden Bridges recommend consolidating your collection and scanning any loose photos or albums that help to tell your personal story.