On the first anniversary of Golden Bridges we: Suzanne, Susan and Nancy, went to the Maine Course  for lunch and took the afternoon off from our "day jobs" to do some Strategic Planning. We have repeated that tradition nearly every April 1st since 2014. Last year we made our plans for sponsoring 'Calendar Girls' at QCT – including details for an ad in the Playbill. This year it fell on a Saturday so we held off until we could all be together for lunch and the traditional Strategic Planning session. We toasted ten years, finalized decorations for our Dogwood Parade entry and brainstormed how to win the costume contest at this year's Women of the Chamber Golf Outing. These are fun social traditions that help us mark the occasion. And, of course… All work and no play makes for dull entrepreneurs!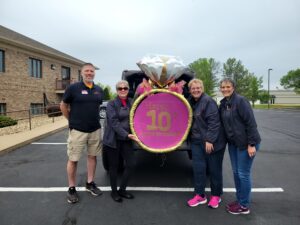 But the real celebration is that we still have a successful business ten years in. 
"Industry data on startups from the Bureau of Labor Statistics provide valuable insights into the failure of startups. 20% of new businesses fail within the first two years. 45% of new business startups don't survive the fifth year. 65% of new startups fail during the first ten years." That means we are in the 35% minority of those that are privileged to move on to year eleven. In fact, by year 15 there are only 25% remaining, so therein lies our challenge for the next five years. 
According to tradition, the 10th anniversary is celebrated with diamonds, and we featured ours (a balloon replica) proudly on the back of a jeep in the Dogwood Parade. Another Golden Bridges tradition is participating in the parade. Around year three we added the food collection in support of Move for Hunger  a philanthropy supported by our National Association of Senior and Specialty Move Managers. This year's food drive yielded 625# of food and more than $150 in cash. This equates to more than 500 meals at Horizons, and snacks for each of the Neighborhood Food pantries around Quincy.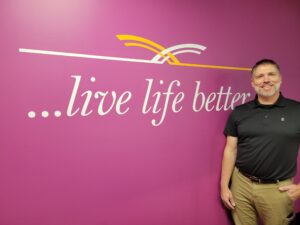 So – is this where we expected to be for our tenth anniversary? Not at all. Let's take inventory:
All three owners work full time on the business

One full-time Director of Sales & Community Outreach

Fifteen part-time, episodic employees (or angels as our clients call them).. and growing

A fleet of four Golden Bridges vans, with advertising wraps

An office

On Golden Pond

in the QuincyWorx building with a view of the lily pond

Successful service to more than 400 clients and their families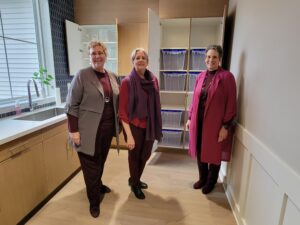 In the scheme of things, ten years is not that long when most of us (women) live to 79 and beyond. But in the life of a small business we are just reaching adolescence. A time of exciting growth and change; a time of exploration and learning; and a time to decide what we want to be "when we grow up". 
Hmm… the field of specialty and senior move management is expanding in new and wonderful ways. And the need for senior solutions is greater than ever, as the greatest generation is demanding bigger and better ways to age. What could that mean for Golden Bridges?
Expanding into senior living facility development?

Giving back to the community in the form of services to families in need?

Advocating for home and residential construction that accommodates the aging population?

Honoring aging veterans for their service by providing our services at reduced rates?

Providing age sensitivity education to caregivers?

Collaborating with healthcare providers to bring awareness of technology assists.

Volunteering in the community to serve seniors and those in transition. We owners are all active volunteers at the Teresa Adams House, where we provided organization tips for the shared resident kitchen. We are always looking for more opportunities!

Helping clients organize and inventory their collections, heirloom items, and what-nots?

Developing a stand up comedy routine:

A Humorous Homage to Aging?

Headlining a TED Talk?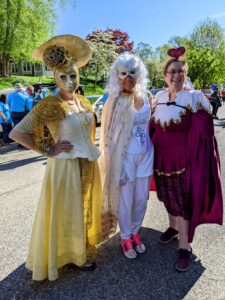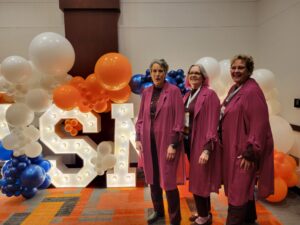 Do we still "high five" when one of us closes the deal? You betcha!
Do we toast to the best quarter sales ever? Of course!
Do we have charts on the wall of the office? Do we track our KPI's? – Yes, and yes. On colorful wipe off boards so we can cheer when the numbers change during the month.
Do you think we are a bunch of rowdy teenagers making noise about our successes and our goals? Ok… we like that!
It's your move, Golden Bridges has been helping with that for TEN YEARS!