Home for the Holidays, or Elf on the SHELF at Grandma's house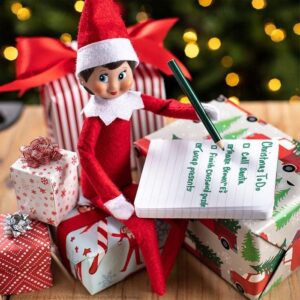 Recently, I attended a Facebook virtual event entitled "Home for the Holidays". It was hosted by Bickford Senior Living, whose VP of Operations Shannon Riberdy and VP of Resident Services Michelle Adam shared many tips on how adults with aging parents/grandparents who are going home for the holidays can watch for signs that your loved one may not be comfortable – or safe – living at home.
At Golden Bridges, we are the recipient of phone calls from both seniors and their children or family members after they have recognized that it's time to move. But it's not necessary to wait until that inevitable fall, severe illness, or hospitalization to call in our services. One of the things we love doing is telling a senior they DON'T need to move. How do we know? We can go to their home to do a Safety Assessment and discuss with them changes they might need to make if they want to stay at home.
Safety Assessment takes into consideration aspects of the home that might cause hardship or even fall risks for them. If we find these and they do want to move… we do that! If they find these and they want to remain at home… we can help with that too. We will coordinate all aspects of hiring contractors to build a ramp; or movers to relocate their washer and dryer on the main floor; or our staff can help them move the most often used items in the kitchen to the shelves and cabinets that are most easily accessible; remove the vertical blinds that cast harmful shadows on the floor and replace them with soft curtains that will both block light and the elements and still let in the sunshine in  on those dreary winter days.
But, what can you do to help them assess whether it's time to change their surroundings? Playing off the popular "Elf on the Shelf" holiday game, here is an acronym to use this year when you are home for the holidays. S H E L F
Socialization – skipping coffee with the guys or regular bridge game? It could be because they are uncertain about their appearance, or their walking stability. Get to the bottom of this, and find out if they need assistance. Perhaps it's because the washer/dryer is in the basement and it's increasingly difficult to keep their clothes clean for going out. 
Hygiene – have they stopped shaving or getting their "hair done"? This could signal memory or health issues. Or, maybe the light over the vanity has gone out and they just haven't been able to change it. Aging eyes need more light. Maybe increasing the wattage of light bulbs (if safe in the fixture) will give them the confidence to resume these habits.
Eating – Is food fresh, nutritious? Weight loss or gain can be signs of poor/changing eating habits. Look at how their clothes fit (rather than embarrassing them by asking their weight). Discuss with them whether they are still eating some of their favorite foods and if not, why not? Lack of appetite also might signal health changes, but it might just be that cooking is no longer something they enjoy. This is especially true of those whose spouse has passed away. If so, discuss with them subscribing to a meal service that delivers freshly cooked meals, or ready to heat trays that offer them independence.
Lighting – Have they added lamps and higher wattage bulbs to existing fixtures? Aging eyes do need extra light (that's normal), but it could mean their vision is impaired. Low lighting and dimming of lights could mean they are experiencing glare. Check lighting at different times of day to make sure that shadows are not causing trip hazards.
Fall risk – The most typical – and most feared – reason for aging adults to leave their home is injury caused by a fall. When you are there, look out for electric cords, rugs, stairs, broken sidewalks, overreaching (for things on high OR low shelves). These are just some of the reasons that falls at home happen
So, if you have searched for the Elf on the SHELF at your senior loved one's home and found some naughty tricks, it might be time to talk about the next step. It's your move… Golden Bridges can help.    https://goldenbridges4you.com/contact-us/ 
Additional Sites to help:
https://atriaseniorliving.com/caregivers-guide/senior-aging-health/winter-safety-tips-for-seniors