As a preteen growing up I shared a bedroom with my older sister, Lee Anne. She was a fan of Shakespeare. And when the Franco Zeffirelli movie was released, she immediately got the soundtrack and played it every night as we fell asleep. I got to know it well, and could recite most of the scenes by heart. One that especially stuck with me was one where Friar Lawrence admonishes Romeo for being despondent over his exile. The most memorable quote being, "there are thou happy", repeated several times over in counting Romeo's blessings of life, love, and breath.
As I think about November being a time set aside for the giving of thanks, I encounter, hear of, or read about many people who feel they have nothing to be thankful for in 2020. But this is not true.
If you are reading this blog:
You have either survived or avoided coronavirus. There art thou happy.
You have a device which is connected to the internet and access to Facebook or website. There are thou happy.
Hopefully, you have a job or a regular income to maintain your lifestyle. There are thou happy.
You can step outside at night and see the same moon and stars that your loved ones see, whether from the next town or a continent away. There art thou happy.
In the beauty of nature and the love of animals, there art thou happy.
The songs of birds and the frenzy of squirrels. The falling leaves and autumn sun. There art thou happy.
In searching for 2020 gratitude lists, I came upon the following:
https://www.antimaximalist.com/gratitude-list/
https://bucketlistjourney.net/89-things-to-be-grateful-for/
https://www.positivityblog.com/grateful-when-times-are-tough/
One thing that I am thankful for are the many forms of communication and entertainment available to me. We have certainly learned in this year that even though our society has had access to incredibly abundant forms of communication for many years, we had been slow to adopt them until we really needed to. Virtual school, shopping, television and theatre, Grandpads and Zoom calls have become commonplace. It's a new normal (overused phrase these days), and we are embracing them in record numbers.
Even in this, the worst of the pandemic in our community, we are finding ways to celebrate new traditions. This Saturday the City of Quincy's downtown District is setting up a Christmas Cruise for families to enjoy. Sixteen blocks of the downtown will feature lighted window displays (watch for the Golden Bridges display featuring repurposed lamp shades as unique Christmas trees). Santa, Mrs. Santa, and our beloved Buddy the Elf will wave at the cars going by their house on the square, and the Fire Station will be a stop for cookies and candy for the kids.
There's no question that this November – this Thanksgiving season is different. Whether sheltering in place or participating in a Zoom family meal, this Thanksgiving is still a time to think of family and tradition, or start a new "normal" for you and your family.
Our partner, Nancy, taught her son how to bake her traditional butter rolls, and they filmed it for the rest of the family to enjoy.
And Suzanne opened her home for a traditional Thanksgiving feast with both family and friends who would not be having their own family meal.
Me, I got to spend some time with faraway family on a safe and sanitary social distancing trip to see my grandkids – and some pretty neat gingerbread houses.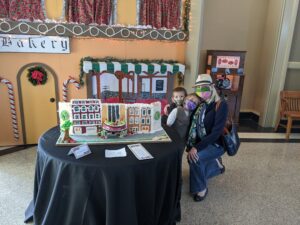 Perhaps you are busy this Thanksgiving weekend preparing a place for virtual learning for your student. Or planning to work from home for the rest of 2020. Many of you (I see on Facebook) have bucked tradition and have already put up the Christmas tree. Some I know are not doing any holiday decorations because there won't be anyone there to see them.
Whatever you choose this holiday season, choose to be happy. Count the blessings around you and make plans for a brighter future.
Friar Lawrence concluded his admonishment to Romeo with:
"A pack of blessings light upon thy back,
Happiness courts thee in her best array,"
And happiness…  thankfulness… is there for you too if you are willing to allow it to light upon your back.
Happy Thanksgiving from Golden Bridges.